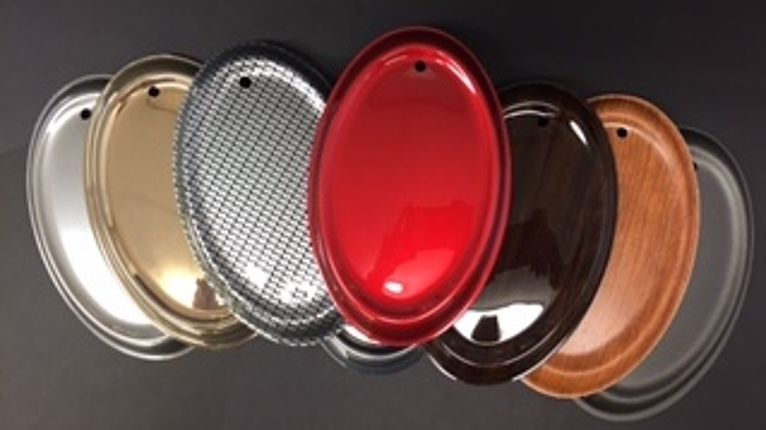 Check Out Our New Finishes
We're always expanding our foil options to meet your needs.
New finishes for 48" films
These films can be utilized by many markets including Automotive, Point of Purchase, Marine and more.
Bright Vac-Chrome (shown in image to right) - This metallic film is highly reflective and adds a level of sophistication to any retail display or marine part.
Electroplate Red - This metallic red tone would be perfect for holiday and seasonal point of purchase display.
Metallic Blue - This metallic blue tone represents a futuristic blue, perfect to catch the eye of any consumer.
Egyptian Gold - This soft gold reflects light and would provide a refined background for printing on plastic.
Vegas Gold - This flashy gold lives up to it's name with a deeper color and sense of richness.
Gun Metal Texture - This finish offers a slightly gritty texture, easily disguising fingerprints and smudges on plastic forming projects.
Ebony Satin Chrome - This light gray finish provides a luster with a soft satin tone, ideal for thermoplastic laminate.
Black Liquid Gloss - This finish portrays a look of "just been poured", still wet, deep black shiny finish, perfect for plastic forming.
Red Chrome - This reflective metallic finish provides mirror like quality in a bright red, a perfect finish to create oversized holiday decorations & retail displays.
Pacific Platinum - This silver speckled finish offers a neutral background with a slight sparkle, highly recommended for marine parts.
New Finishes For Interior Flat Application
Brushed Gun Metal - This dark gray brushed finish, is one of our favorite customized laminations, representing strength and masculinity.
New Brushed Stainless - This updated classic contains the right amount of metallic shine with the brush of stainless, ideal for profile wrapping.
Satin Black - This finish provides the brush of stainless with a rich black background, a twist on the classic.
New Brush Aluminum - The shimmer of this finish gives the allusion of an aluminum metal, great solution for a metallic retail display
New Brush Stainless - This finish offers the brushed stainless look with a slightly warmer color.
Stainless Steel - This brushed metallic film offers a the brush and appearance of stainless steel, with deeper gray background.
New Finishes For High Tech & Metallic Caps
Copperline - This sleek finish has a dark background that highights the copper horizonatal pattern.
Black Metallic - This high tech finish would be the perfect material for a dashboard cover, with a black background and silver specks.
If you do not see the finish you're looking for, contact us to help us understand what you're looking for.