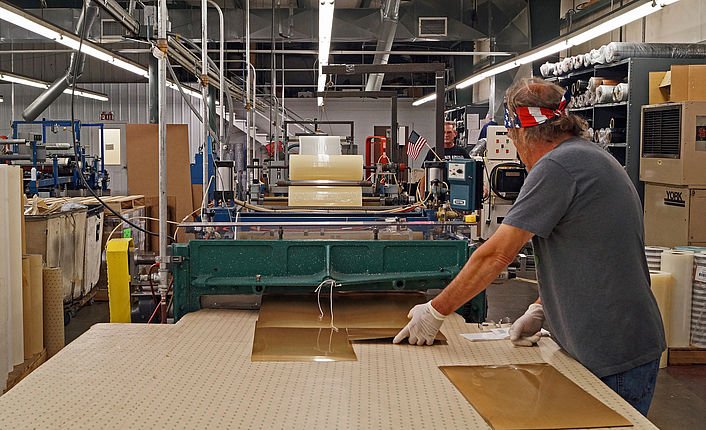 Frequently Asked Questions
Who is Innovative Laminations?
Innovative Laminations has been an offline laminator of high quality thermoplastic decorative laminates since 2000. Our team of experts have decades of industry experience manufacturing decorative plastic sheet and roll stock to many markets including, but not limited to, Point of Purchase, Automotive, Heavy Truck, Marine and Plastic Processing.
What products do you offer?
We custom manufacture thermoformable laminates, printable laminates and laminates with other enhanced performance properties such as scratch and chemical resistance for a variety of applications per our customer's specifications.
What sheet sizes do you offer?
We offer decorative sheet and roll stock in any gauge from .004" to .500" thick. Sheet sizes are available up to 60" in width with lengths of up to 144". Roll stock is available up to 52" in width with lengths to your specifications.
What is your minimum run?
We will run any amount of material you are requiring for the hundreds of films and plastic substrates that we stock in house and will quote accordingly. As we stock thousands of raw materials, we can run and offer very low minimums. Minimum quantities may apply for custom solutions requiring raw materials that are not stocked on our floor.
Do you stock finished goods, ready to ship?
As a customer manufacturer who produces material per our customer's specifications, we stock a great amount of raw material on our floor, however we stock very little finished good. We do stock a limited number of our most popular .040x48.25"x96.25" Decorative Digital Print Styrene and other Decorative Styrene on the shelf for immediate prototypes and small projects.
What is your turn-around time to do a trial production run?
In most cases we can turn around prototypes within a few a days, but it is dependent on the requirements of the project.
What type of adhesive should we use?
We stock various different adhesives and will recommend adhesives based on your application requirements.
Can the product be shipped rolled and flat?
We supply decorative plastic in both sheets and rolls. Most materials .060 and thicker will be shipped flat, while there are some thinner gauge products such as our .040x48.25"x96.25" that can be loosely rolled and shipped in a box VIA UPS, FedEx or other parcel service.
What is the standard lead time?
Lead time is product and requirement dependent. Lead time can range from a few days to 6+ weeks depending on the project and raw materials required to produce.
What are the fire ratings for your products?
Many of our products are UL94 HB rated though the fire rating is also product dependent and can vary.