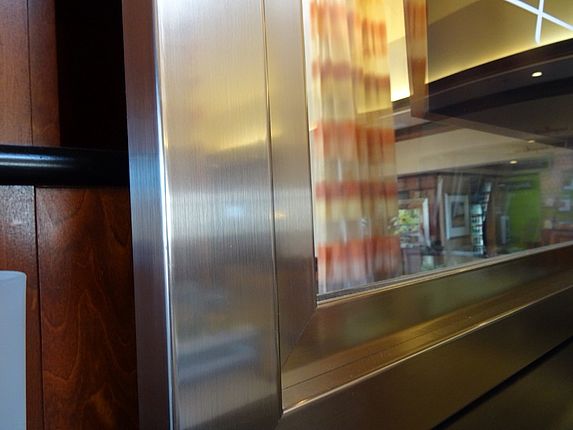 Decorative Plastic for Profile Wrapping
Innovative Laminations offers hundreds of custom, decorative plastic products for profile wrapping. We manufacture per your specifications to provide you with a material that will work with even your most challenging profiles and provide the highest end, most durable product at a competitive price. We are experts at thin gauge lamination, providing our customers with superior, quality laminates for their profile wrapping applications.
Applications
Decorative Plastic Laminates for Profile Wrapping
We custom manufacture decorative plastic roll stock with enhanced adhesion treatment on the backside for profile wrapping fabrication and applications.
Picture Frame Mouldings
Architectural Trim
Store Fixtures
Furniture

Advantages of ILC films and sheets
for profile wrapping
ILC's expertise laminating thin gauge materials ensures customers receive highest quality and aesthetic
Various decorative plastic laminate options available to work with a variety of profiles
Custom manufacture to your specifications to satisfy all of your requirements – price, durability and look
Enhanced adhesion treatment on the backside for ease of wrapping
More durable and more pleasing, high end aesthetic than other materials such as paper
Variety of options to supply material at a price that works for each project or program
Why buy from ILC? Value proposition
High Quality, Durable Decorative Plastic at a Competitive Price
ILC excels at custom lamination of thin gauge decorative roll stock to meet customer and designer specifications. We have the capability to quickly turn prototypes for proof of concept or project approval in small quantities, so that our customers can be confident in their project launches and program roll outs. Our hundreds of films can be laminated to various plastic substrates for any profile wrapping application.
Suitable materials – technical details
Hundreds of finishes and looks for Profile Wrapping
Patterns and product offerings include exclusive Texture Films & Metallics, Chrome, High Tech, Solid Color and Real Wood-looks
Ability to match or produce custom patterns and colors
ABS, High Impact Polystyrene, PET and other plastic substrates available upon request
Product availability from .004" to .010" thick and other gauges upon request
Typically provided in 24" wide rolls
Available with or without protective masking
Plastic laminate supplied with enhanced adhesion treatment on backside for wrapping MDF or other material for mouldings